What Type of Transfer Student Are You?
Discover what type of Transfer Student you are and learn about what kinds of resources are the best for you!
Who is considered a Transfer Student?
"A transfer student is essentially anyone who has earned college credits at more than one institution before completing their undergraduate degree. Although the prevalence of transfer is well documented, transfer students are often underserved by higher education institutions that don't fully acknowledge their needs or provide equitable access to resources that support those needs."
-- National Institue for the Study of Transfer Students (NISTS)
Purpose: The purpose of this exercise is to visualize and recognize your Transfer Journey. After completing, you will have more insight and context into the pathway and purpose of your college experience.
Goal: The goal of this exercise is to identify how you will maximize your time at Fredonia while creating an environment for optimal learning. It will be important to identify which resources to utilize and create a plan that works for you! Students should complete this exercise and feel confident in engaging, connecting, and getting involved on campus.
How to figure out what type of Transfer Student YOU are:
Steps/Process:
1. Determine your Transfer Pathway
2. Determine your Transfer Persona Personality by completing our quiz
3. Make an appointment with a student peer and complete the pathway reflections exercise or complete the exercise through the website to complete the reflection exercise
There are two different parts to look at when determining what type of transfer student you are. The first is what type of pathway you choose, the second is what type of student persona you are.
Click on the accordions below and follow the steps to help you learn what type of transfer student you are!
Once you have figured out your Transfer pathway, it's time to discover more about the different types of Transfer personas (Goal-Oriented & Determined, The Juggler, Focused But Frustrated, Deflated & Detached, Decidedly Undecided, Major Mismatch, Transition Troubles, and Unsure/ Questioning).
Click the button below to take our persona personality quiz through Buzzfeed.
Take the Fredonia Transfer Student Persona Quiz
For more information about your quiz result, stay tuned for more information on how to set up an appointment with a peer Transfer mentor! You can also learn more information about the different types of Transfer personas by checking out the NISTS' (National Institute for the Study of Transfer Students) comprehensive website strategy guide through this link: https://www.nists.org/transfer-website-strategy-guide

Based on your pathway and persona, there are resources available that best fit you as a transfer student.  
The different types of resources that coincide with the types of personas and pathways can be found on our Transfer Experiential Map.
Below is a condensed list of resources available to SUNY Fredonia Transfer Students: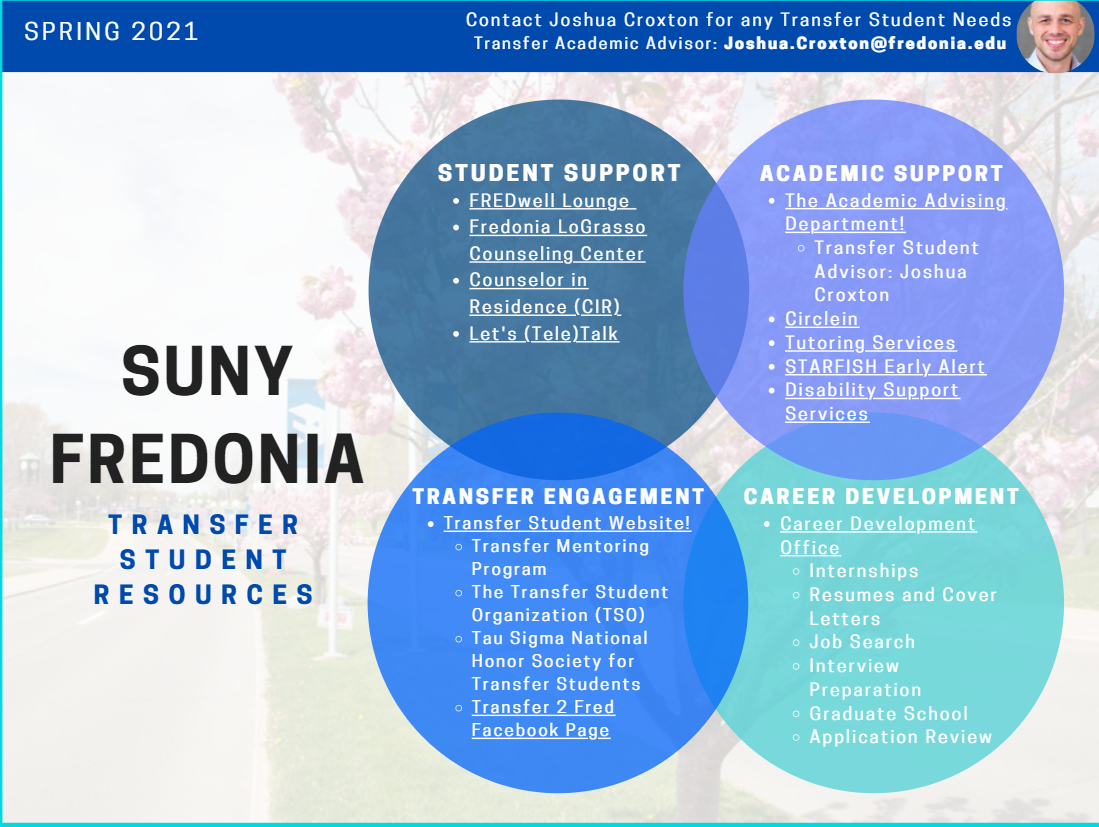 For a more in-depth list of SUNY Fredonia's resources, check out these resources:
visit the transfer experiential map
download the fredonia Transfer Road Map pdf
If you are having any issues with understanding or navigating any materials/ information about transfer student types and how they reflect on pathways and personas, feel free to sign up for our individualized transfer student type peer appointments during National Transfer Student Week.
Disclaimer from NISTS:
"Please note that our list of transfer personas is not exhaustive. You can, and should, consider creating your own personas to capture the unique characteristics of the transfer students on your campus. It's also important to note that students can embody the traits of multiple personas at the same time, and they may even switch between them throughout the transfer transition."
We would love to hear your feedback from this experience!
Please consider taking our survey. This survey is anonymous and will consist of questions pertaining to your experience with the information provided about transfer student pathways, personas, and resource comprehension.
take the Review and Reflect Survey
If you have any questions on the information above please contact advising@fredonia.edu