The Hillman Opera 60th Anniversary Celebration
Fri., Oct 20 at 8 p.m., King Concert Hall
The Hillman Opera celebrates its distinguished 60 year history with this once in a life time event. Guest alumni operatic artists who have graced the stages of the Metropolitan Opera, Vienna State Opera, New York City Opera, Minnesota Opera and boast international operatic reputations return to the place where it all began. Also featured will be current students in a chorus of 120 as well as in featured roles. Famous arias and operatic scenes from La Boheme, La Traviata, Die Fledermaus, Carmen, and many others, will be part of this special program.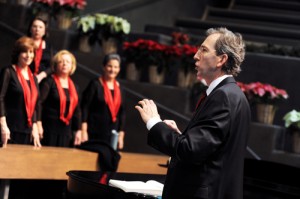 Eighth Annual Intercollegiate Choral Festival
Sat., Feb. 24 at 4 p.m., King Concert Hall
Dr. Gregory R. Gentry, Director of Choral Studies at the University
of Colorado at Boulder, will serve as festival clinician and conductor. Also featuring the Fredonia Chamber Choir, Fredonia College Choir, and Fredonia Women's Choir.

Fredonia College Symphony with Zuill Bailey, cello
Sat., March 24 at 8 p.m., King Concert Hall
Grammy Award-winning cellist Zuill Bailey will join the Fredonia College Symphony, conducted by Dr. David Rudge, for the Schumann Cello Concerto. Widely considered one of the premiere cellists in the world, Bailey has performed with major orchestras around the world. The concert opens with the dramatic and theatrical Coriolanus Overture by Beethoven, and closes with Symphony No. 4 by Tchaikovsky.