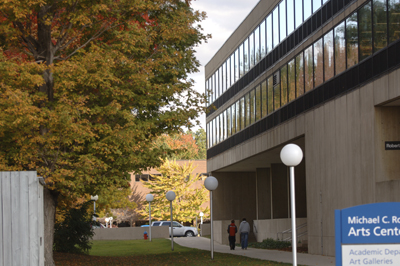 What is Visual Arts & New Media?
The Department of Visual Arts and New Media provides a balanced, comprehensive undergraduate education within the complex world of artistic disciplines. Depending on degree program, students may study art history; art and technology's cultural impact; the concepts, theories, design, aesthetics, and skills of visual arts and computer graphics; the creative process, from inception to presentation; and the range of skills, theories, and media necessary for the development of the designer or creative artist.
Note: Admission to the department requires a portfolio submission.
A degree in Visual Arts & New Media prepares students for success in graduate programs as well as professions in corporate and public settings. Graduates find careers as professional artists and in industries such as media, advertising, commercial art, special effects, art administration, education, fashion, and web design.
[ Back to Top ]
To explore specific job outlooks, use MyNextMove, the Occupational Outlook Handbook, and MyPlan. Each offers unique insight about the personalities, skills, knowledge, technology, abilities, and educational requirements compatible with a job.
For a more personal approach, use resources like Candid Careers and Glassdoor. Candid Careers hosts thousands of interviews with industry professionals. Glassdoor provides numerous employee reviews from various companies. Both provide great insight into the industry and daily life of a particular career.
[ Back to Top ]
[ Back to Top ]
Internships foster hands-on learning and skill building. They also help students make connections and network with potential employers.
You can use FREDNetwork, the CDO's job and internship database, to find internship (and employment) opportunities! Schedule an appointment with a CDO career counselor for more information and advice.
[ Back to Top ]
Major-specific activities and student organizations and clubs provide venues to make connections and build strong networks. Depending on personal interests and career goals, students may join a variety of clubs such as Fredonia's chapter of the American Institute of Graphic Arts, the Animation and Illustration Club, and Art Forum.
Networks continue to grow through digital groups such as LinkedIn. The CDO's professional mentoring program, Fredonia Career Connection, is also a great place to find a mentor!
[ Back to Top ]
[ Back to Top ]
Stay up to date on the Department of Visual Arts & New Media's news and events through Facebook and the Visiting Artist Program calendar of events.
What's Next?
Not sure about your future? Schedule an appointment
The CDO is here to help you explore opportunities!
[ Back to Top ]
Career Development Office
State University of New York at Fredonia
(716) 673-3327
(716) 673-3593 fax