First Destinations and Graduate Outcomes
Each year the Career Development Office surveys recent graduates to determine first destinations for employment and education following graduation from Fredonia.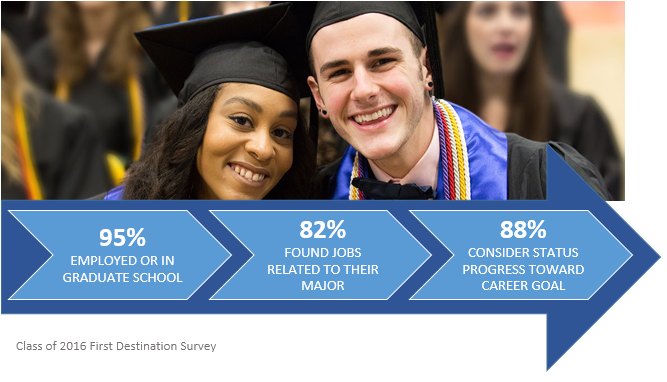 Fredonia Student Success
Class of 2016 graduates are employed in a broad range of fields in both for-profit and not-for-profit settings, including business, communication, education, human services, performing arts, technology, visual arts and new media, science and research.
95% of graduates are employed full-time, employed part-time, and/or enrolled in additional education in the year following their graduation
88% of respondents consider their present status as progress toward their career goal
82% indicated that their job was directly or somewhat related to their major
$34,097 is the mean salary for full-time employed alumni within one year of graduation
Fredonia undergraduates pursue a wide range of career paths and continuing education programs. The accomplishments of students helps to illustrate the many possibilities open to Fredonia graduates and the value of their liberal arts education.

Questions? Contact the Career Development Office at (716) 673-3327 or email careers@fredonia.edu.
Career Development Office
State University of New York at Fredonia
(716) 673-3327
(716) 673-3593 fax