Fredonia's Tau Sigma National Honor Society for transfer students has been involved with the Care Packages for the Troops program since 2012. Tau Sigma's mission is to recognize and promote the academic excellence and involvement of transfer students on campus and in our community. According to Helen Leysath, Transfer Coordinator and Advisor, the Veteran's Recognition Committee was searching for ways to offer more student involvement.
» Read more
---
"ALL IN Challenge" Election Day events
The "ALL IN Challenge" committee sponsored transportation for over 140 students who needed a ride to vote. It was a great experience and the first time voting for many students.
In addition, the committee held an "Election Results Party" from 9:00 p.m. until 1:00 a.m. to wind up its efforts to bring voter awareness to campus. Students were able to watch the results, have something to eat, and participate in the wide range of conversation! Well over 200 students attended!
President Horvath was present to draw the two winning student groups who would receive either $100 or $50 in funding as a thank you for their students participating in the events offered. The Women's Student Union won $100 and the Social Work Club won $50. These funds will be deposited into their accounts for T-shirts or whatever their club needs!
"Watch the Debate" Event Draws a Large Crowd!
The "ALL IN Challenge" Committee hosted a "Watch the Debate" event for the first Presidential debate on September 26th.

The event began at 8:30 p.m. with pre-debate food and drinks and an opportunity for the students to discuss their thoughts, grab a "Constitution" booklet, an "ALL IN" button, and even fill out a "Voter Registration" form if they have not done so yet!

There were well over 200 students in attendance and we hope to see even more at the next event which is the Vice Presidential debate on Tuesday, October 4th, at 8:30 pm. in the Multi-Purpose Room of the Williams Center.
---
Bob McCarthy Speaks to Interested Students and Staff
In celebration of "Constitution Day", the Fredonia "ALL IN Challenge" committee sponsored a presentation and discussion with Pulitzer Prize nominated political reporter, Bob McCarthy. This is the first in a series of events scheduled during this important Presidential election year. It was held on Tuesday, September 20, 2016 in McEwen Hall, Rm. G24 at 6:00 p.m.
Bob McCarthy has covered every major presidential election and national convention for the past two decades, as well as state and local politics. McCarthy joined The News in 1982 after six years with the Olean Times Herald. He became the News' main political reporter in 1992. Since then he has covered national politics, including reporting from the major party conventions, plus state and local politics. He was nominated for the Pulitzer Prize in 2002 for a series of stories he co-wrote with Michael Beebe on how State Supreme Court candidates are chosen. McCarthy reported from both the Republican and Democratic national conventions this year.
Fredonia houses pilots for Dunkirk-Lake Shore 2016 Air Show
The Dunkirk Vintage Airshow was held the weekend of July 2 and July 3 at 2:00 p.m. each day. There were exciting stunts along with iconic biplanes, vintage military training planes, and a wing walker!
This was the first airshow in Dunkirk since 1971 and celebrated our nation's independence along with 125 years of Lake Shore Savings Bank being in our community. The show took place over Lake Erie from Main Street to the Wright Park area. Lakefront Boulevard was closed to traffic, and crowds gathered along the newly refurbished seawall to enjoy the show.
Shuttle buses were provided from designated parking areas in and around the city as well as from the various parking lots at the Fredonia campus and the Fredonia Technology Incubator.
---
"Your Vote ... Your Future!"
Fredonia is a member of the "ALL IN Challenge" which is a national non-partisan initiative to educate students about civic engagement and to increase voter registration and participation (www.allinchallenge.org). For a calendar of events and to see what others are saying...visit us on our website or
.
---
Earth Month events sought for April 2016 celebration calendar
The Fredonia campus will celebrate Earth Month during the entire month of April 2016. The tradition has grown from Earth Day to Earth Week to the first campus-wide Earth Month celebration this year.
Building on the success of the many events, activities and speakers in 2015, the goal continues to include activities and events from all areas on campus for Earth Month 2016. Kevin Cloos, Director of Facilities Services, and Sarah Laurie, Director of Environmental Health and Safety and Sustainability, have agreed to co-chair the Earth Month 2016 Planning Committee.
Campus organizations, departments, faculty, staff, and student groups are invited to submit events to include in the Earth Month calendar. If an event, film series scheduled, or a relevant educational activity with a theme related to Earth Day, environmental education, or sustainability is planned for the month, the university would like to include the event on the Earth Month calendar.
Events listed on the official calendar will benefit from inclusion in Earth Month promotional efforts and will be posted on the Earth Month website. Planning is already underway for the popular Electronics Recycling Event on Saturday, April 23, 2016.
To put an event on the calendar, students, faculty and staff should fill out the short submission form so organizers have all the details related to the event. For more information, visit www.fredonia.edu/earthmonth or contact Ms. Laurie (ext. 3796) or Mr. Cloos (ext. 3452).
---
HR Management students win Chautauqua County contest on Dec. 7
A team of six Fredonia students have won the "I Love Chautauqua -- Working Here" video contest, sponsored by the Chautauqua County Visitors Bureau. The team included seniors Richelle Dalaba (Cassadaga), Marybeth Koetz (Hamlin), Joseph Moran (East Meadow) and Darren Pope (Clarence), along with juniors Kevin Geiser (Horseheads) and Emily Honeyman (Williamsville).
The students created the video as a group project required for the School of Business' Human Resource Management class (BUAD 330), taught by Fredonia's Associate Director for Human Resources, Jodi Rzepka.
The prize for winning is $250, which was presented to the team by Chautauqua County Executive Vince Horrigan, and matched by Fredonia's Division of Engagement and Economic Development, presented by Vice President Kevin Kearns.
---
Fredonia Technology Incubator to feature James East's artwork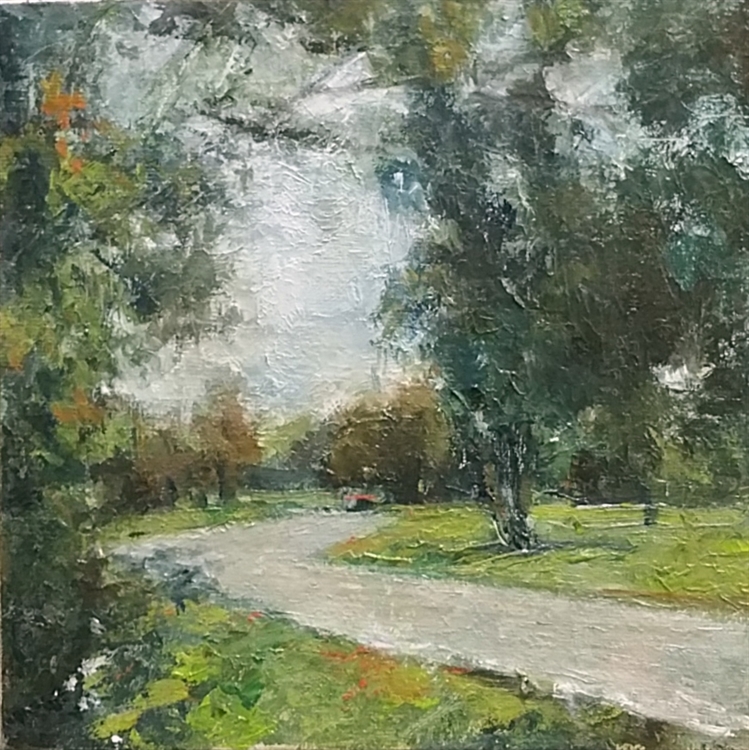 "Lake Erie State Park," by retired Professor James East, is among many works which will be on exhibition at the Technology Incubator through Dec. 11.
Local artist James East will exhibit, "Recent Works: Landscapes," from Nov. 9 to Dec. 11 at the Fredonia Technology Incubator, located at 214 Central Avenue in Dunkirk. The exhibition can be viewed from 9 a.m. to 4 p.m. on weekdays.
An opening reception is scheduled for Thursday, Nov. 12, from 4 to 6 p.m. Parking is available in the incubator's lot, accessible behind the building from Washington Street.
"We are pleased to host exhibitions featuring art from our campus and the community," said Incubator Director Chuck Cornell. "As a mixed-use business incubator focusing on arts- and technology-based businesses, featuring talented artists at our facility adds great value to the community and our business clients."
James East is a Professor Emeritus of Clarinet at Fredonia's School of Music, where he taught for 38 years. He was also Executive Director and Principal Clarinetist with the Western New York Chamber Orchestra, and Principal Clarinetist with the Erie Philharmonic Orchestra in Erie, Pa.
When Mr. East retired from Fredonia, he resumed his interest in painting, which he had abandoned since high school to focus exclusively on his music studies. East has worked with Fredonia Technology Incubator Advisory Board Member and SUNY Distinguished Professor of Painting Alberto Rey. Prior to working with Professor Rey, East enrolled in workshops at the Art Students League and Spring Street Studio in Manhattan.
"I have been working with 'Jay' since 2012, and it has been a pleasure having him in my classes," said Rey. "He is one of the most motivated and hardest working students that I have had. He is adventurous in his explorations and we continue to explore new directions every semester."
Mr. Cornell acknowledged Cathy and Jesse Marion Art Gallery Director Barbara Räcker for overseeing the exhibition. Those interested in attending the reception can register at www.fredonia.edu/incubator.
The Fredonia Technology Incubator promotes economic growth in Western New York by supporting entrepreneurship and the development of new, innovative companies into successful business ventures. The incubator provides services to startups which, in turn, create jobs in the community. In addition, the incubator develops real-world internships and training opportunities for students, attracts and retains graduates for the area, provides a first-class facility for community activities, and provides support services to community organizations and leaders.
The incubator is part of Fredonia's Division of Engagement and Economic Development (EED), established in 2013 to facilitate and support university-community collaborations that enhance the intellectual, cultural, artistic and economic vibrancy of the region. Such collaborations include active community engagement and partnerships with local and regional organizations, governments, businesses and universities. In addition to the incubator, the division oversees the university's StartUp New York economic development program. The division is led by Vice President Kevin Kearns.
---
Dr. Gary Welborn presents Service Learning Workshop on Oct.16
Gary Welborn, coordinator of Community Engagement and faculty coordinator for Service Learning at SUNY Buffalo State, presented a workshop on Service Learning on Oct. 16 in the Williams Center.
The event was sponsored by the Fredonia Division of Engagement and Economic Development, the Career Development Office and the Professional Development Center.
Service Learning allows students to apply their classroom learning to community projects and work with local agencies on important issues to make a positive impact. In the workshop, Dr. Welborn shared some of his high-impact practices, theories, resources and course construction that has been a success at SUNY Buffalo State.
It is hoped that there will be another opportunity to benefit from a visit from Dr. Welborn in the future along with his colleague, Laura Hill Rao. A planned follow-up workshop will assist faculty who wish to modify their syllabus to include a Service Learning component.
---
Community Engagement Forum held on Sep.16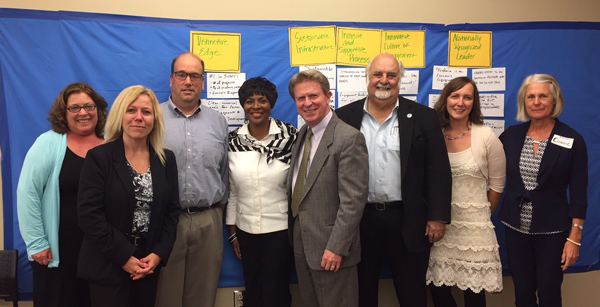 Facilitator BethMarie Ward, Tracy Collingwood, Dr. Michael Jabot, Joyce Harvard Smith, Dr. Kevin Kearns, Dr. Russell Boisjoly, Dawn Eckenrode and facilitator Connie Foster.
The divisions of Engagement and Economic Development and Academic Affairs recently hosted a Community Engagement Forum in conjunction with the university's Professional Development Day.
Over 70 faculty, staff, and administrators participated in the morning facilitated session providing input on a variety of important areas including how to develop a sustainable model for community engagement, assess and track community engagement activities, and integrate and align community engagement activities with existing initiatives. A smaller group of faculty and administrators participated in a lively visioning session in the afternoon.
Click here for Engagement Forum Executive Summary
---
FTI to Host Fredonia Economic Impact Presentation
Members of the UB Regional Institute will present their findings from their economic impact study "Fredonia: The Economic Impacts of a University" on Friday, May 22 at 11 a.m. at the Fredonia Technology Incubator, 214 Central Ave., in Dunkirk.
The study, conducted by the University at Buffalo's Regional Institute and commissioned by Fredonia's Division of Engagement and Economic Development, develops a baseline of key impact indicators, shedding light, through data and quantitative analysis, on Fredonia's contributions to the local, regional and state economy. The event is free and open to the public
Fredonia is a major player in the economy of Western New York's Southern Tier
---
Kearns Presents Award For I Love CHQ Challenge
Dr. Kevin Kearns joined County Executive Vince Horrigan and local contest partners as prizes were awarded to the first set of winners for the I Love CHQ Challenge. Winners were Tracie DeMotte, Roslin Smith, and David Saxton. They each received a $250 prize and Smith's "View's From Within" was presented an additional $250 by Vice President Kearns, as Fredonia offered to match the prize for any faculty members or students who won.
AEED Division Contact Information:
Advancement, Engagement and Economic Development
Dr. Kevin Kearns, Vice President for Advancement, Engagement & Economic Development
State University of New York at Fredonia