Mary Beth Sievens,
Department Chair
Mission Statement
History at The State University of New York at Fredonia embraces more than the study of the past. Read more>>
Spring 2017 Course Descriptions
Dept. News:
Congratulations to Professor Emeritus Tom Morrissey for winning the United University Professions' Pearl H. Brod Outstanding Retiree Award! "No UUP retiree has done, or is doing, better work for the union and the University (than Tom)" stated one colleague.
---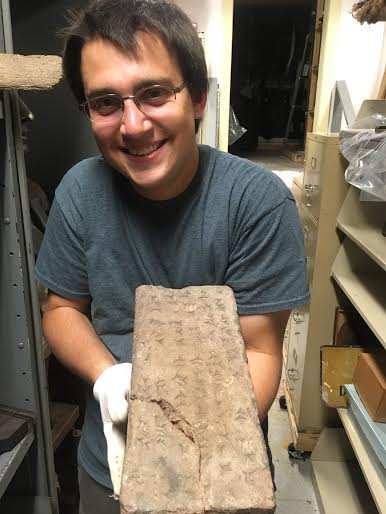 Congratulations to History major, Ben Schrantz, who discovered an Akkadian Cuneiform Block while interning at the Oneida County Historical Society! Read the full story here!
Welcome to The State University of New York at Fredonia History Department!
Our department offers a number of dynamic programs at the undergraduate level, including majors in History and Social Studies Adolescence Education. Our faculty are committed teachers and scholars who promote student learning through a broad, yet rigorous, analysis of the past. Our programs are designed to enhance students' knowledge of the past and to develop strong critical thinking and writing skills. At Fredonia, students "do history" by conducting original research, analyzing sources, developing arguments, and communicating their findings. In addition, opportunities to engage in service learning, internships, scholarly conferences, and study abroad promote the development of skills and competencies students will need for life in a complex, global community. Please explore our site to learn more about the opportunities available at Fredonia, and please click on this link to learn more about career options with a BA degree in History. If you have any questions, don't hesitate to email me at sievens@fredonia.edu.
History Department Office
State University of New York at Fredonia
(716) 673-3277
(716) 673-3332 fax